Energy Tips – What Should I Look for in Energy Efficient Windows?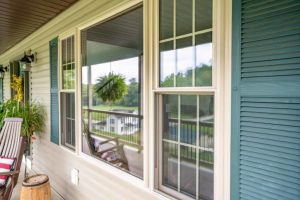 If you're in the market for new windows and want to ensure your purchase will make a difference in your home's energy efficiency, we have everything you need to know here.
Features of High Efficiency Windows
Identifying high-performance windows can be challenging, especially if you're not sure what the technical jargon you read in product descriptions means. In general, one big factor you need to be aware of when looking for energy-efficient windows is the U-factor, which measures the rate of heat loss through the window. This is typically written as a decimal (for example 0.30), and the lower the U-factor, the more energy-efficient the windows are.
A window's U-factor is determined by many features, so even if a specific number isn't listed on a manufacturer's website, you can often get a good idea of the product's energy efficiency by checking the following:
Do the windows use low-e coatings?

Do they have gas fills for added insulation?

Is the glass dual- or triple-glazed for less heat transfer?

Are the frames insulated?

Do they use weather stripping to minimize air infiltration?

Are the windows ENERGY STAR®-rated?
If the windows you are looking at check these boxes, they're likely an energy-efficient choice with a low U-factor. But if you want more information, you can call a manufacturer or a window installation contractor, they can likely tell you more about their windows' U-factor and other energy efficiency ratings.
The Top Choice for Energy Efficient Replacement Windows
At WinTek USA, we offer a proprietary line of highly energy efficient windows—EcoTek by ProVia. To find out more about these windows and start your installation project, give our team a call today!