EcoTek by ProVia 1200 Series—Affordable and Energy-Efficient Replacement Windows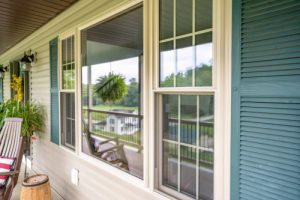 WinTek USA offers high-performance replacement windows to fit any budget. Our EcoTek by ProVia 1200 Series is a cost-effective option for homeowners who may be upgrading from builder-grade windows and looking to beautify their home and improve its energy efficiency. Windows from the EcoTek by ProVia 1200 Series deliver these benefits and more at a price you can afford.
Economy Windows With High-Performance Glass
WinTek USA's proprietary replacement windows are manufactured by ProVia, a company that is renowned in the industry for its high standards of quality. We chose ProVia to craft our 1200 Series windows because we want our customers to receive the most from their investments, and that means reaping the benefits of improved energy efficiency.
ENERGY STAR®-rated glass packages with varying levels of performance are available for your project, but no matter which you choose, you can expect an improvement in home energy efficiency. All the glass in our windows feature a low-E coating, which reflects outside heat away from your home in the summer and keeps warmth generated by your HVAC inside your home during the winter. The result is a more comfortable home with lower monthly energy costs.
Affordable Windows That Add Beauty to Any Home
As if exceptional thermal performance wasn't enough, WinTek's EcoTek by ProVia 1200 Series replacement windows are also beautiful and will enhance curb appeal. These windows come in an attractive Euro white color and in a variety of styles—we offer all the favorites, including double-hung, casement, bay, awning, and more. Our practical and affordable windows will add beauty and value to your home for years to come.
Standard Features
The EcoTek by ProVia 1200 Series includes the following standard features:
Heavy-duty extruded screen
Multi-chambered frames made from Sunshield® vinyl
Neopore™ foam insulation
8-point fusion-welded frames
DraftBlock™ triple weather-stripping
Innergy™ thermal reinforcements
DualTek integrated tilt latches
Compound tension balance system
Super Space® warm-edge glazing system
Other Features of the EcoTek 1200 Series
In addition to double-insulated, ENERGY STAR®-rated glass, these replacement windows feature:
Single cam-action locks
Dual locking system
Under-lock aluminum reinforcement
Learn More About Our Affordable and Energy-Efficient Windows
For more information about our EcoTek by ProVia 1200 Series replacement windows and to learn if they're the right choice for your home, contact WinTek USA today. When you do, be sure to ask about the 20-year warranty that will be included with your new windows. We serve homeowners in Arkansas, Mississippi, Alabama, Louisiana, and east Texas.