EcoTek by ProVia 3200 Series—Triple-Pane Windows That Deliver Exceptional Benefits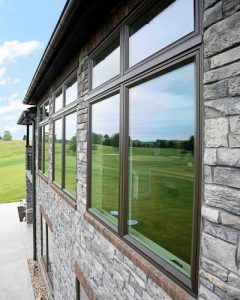 A wide-open view of the outdoors, impressive energy efficiency, timeless beauty—you have big goals for your window replacement project. At WinTek USA, we're pleased to say we can help you achieve all of them with our EcoTek by ProVia 3200 Series. These triple-pane windows are built strong for lasting performance, and they are some of the most energy-efficient windows available for your project.
Premium Replacement Windows From a Respected Manufacturer
At WinTek USA, we're proud to offer our proprietary EcoTek by ProVia 3200 Series as a premium option for homeowners who want the best windows for their home. Professionally crafted by renowned manufacturer ProVia, these high-efficiency windows feature three panes of ProVia's impressive low-E glass, which is specially formulated to reflect heat. With three panes of this ENERGY STAR®-rated glass putting up a nearly impenetrable wall against heat transfer, your HVAC will have an easier time keeping your home at a comfortable temperature throughout the seasons, ultimately saving you energy costs.
Standard Features
The EcoTek by ProVia 3200 Series includes the following standard features:
Heavy-duty extruded screen
Multi-chambered frames made from Sunshield® vinyl
Neopore™ foam insulation
8-point fusion-welded frames
DraftBlock™ triple weather-stripping
Innergy™ thermal reinforcements
DualTek integrated tilt latches
Compound tension balance system
Super Space® warm-edge glazing system
The high-performance windows of the 3200 Series also feature 1-inch triple-glazed insulated glass and a fiberglass reinforced meeting rail. They also come with a lifetime warranty!
Other Benefits of Triple-Pane Windows
Three panes of glass make our 3200 Series windows exceptionally energy efficient, and this design provides other great benefits. For instance, our triple-pane windows dampen noise pollution, keeping distracting outside noises from entering your home. They will also help maintain your family's privacy by keeping conversations inside. Three separate panes also make break-in attempts nearly impossible—a boost in home security supported by the heavy-duty locks and super-strong frames that are additional standard features of the 3200 Series.
High-Efficiency Windows That Offer Timeless Beauty
When you choose WinTek USA's EcoTek by ProVia 3200 Series windows, you know you'll receive the energy efficiency benefits you're looking for. You'll also be pleasantly surprised at just how beautiful our premium replacement windows are. Select from 14 custom colors and four interior woodgrain patterns. Then, select your favorite styles. We offer double-hung, casement, bay, sliding, and other popular options.
To learn more about how our triple-pane windows can deliver premium benefits for your home in Arkansas, Mississippi, Alabama, Louisiana, or east Texas, contact WinTek USA today.