Energy-Efficient Home Improvements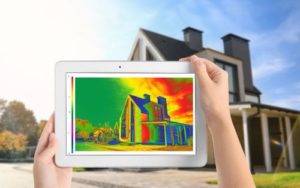 As our homes age, the builder-grade windows that were installed during construction begin to degrade. And while declining physical appearance is certainly a concern, another troublesome result of deteriorating windows is poor energy efficiency. Windows can lose their tight seal over time, allowing warm air to seep into your home during the summer and out of your home during the winter. Heat gain and loss can force your HVAC system to work harder than it should have to, which in turn can drive up monthly energy bills. If you're looking for energy-efficient home improvements, a good place to start is with window replacement from WinTek USA.
Window Replacement—the Optimal Way to Improve Energy Efficiency in Your Home
Upgrading your home's aging windows with new high-performance models can go a long way toward improving energy efficiency and driving down costly energy bills. But, of course, not all replacement windows are made the same. At WinTek USA, we know that thermal performance is at the forefront of our customers' minds, which is why we offer some of the most energy-efficient windows on the market.
EcoTek by ProVia Windows From a Leader in Home Energy Efficiency
EcoTek by ProVia windows from WinTek USA are available with state-of-the-art insulating features, such as foam-filled frames, triple weatherstripping seals, and multiple panes of high-performance glass. These features work together to eliminate heat transfer, creating a more energy-efficient home. Our windows are ENERGY STAR® certified and installed by seasoned professionals to ensure lasting performance.
FAQs
Window replacement is one of the best ways to improve energy efficiency. However, it can also be a costly project. At WinTek USA, our goal is to instill confidence in your decision. Our windows are not only some of the most energy efficient on the market, but they can also be customized to meet a variety of budgets. To further your understanding of EcoTek by ProVia windows and how they can improve energy efficiency at your home, here are some answers to common questions we receive:
Door Replacement—Another Great Way to Improve Energy Efficiency in Your Home
While we're upgrading your windows, consider allowing us to also replace your home's exterior doors. Our front door systems are designed to be energy efficient, durable, and secure. And our patio doors feature low-E glass to minimize heat transfer.
Learn More From WinTek USA
If you're looking to make energy-efficient home improvements at your residence in Arkansas, Mississippi, Alabama, Louisiana, or east Texas, look to WinTek USA to deliver a trusted solution. Our windows and doors are manufactured in the USA and crafted to meet the performance standards you want for your home. To learn more, contact us today.