The Home Improvement Contractor That Homeowners in Dallas, TX, Trust for New Windows and Doors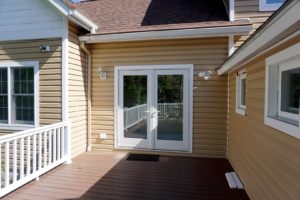 Do you feel a draft when you walk past your aging windows? Are the doors on your home starting to look run-down with age? If so, you may be considering a window and door replacement project, in which case you can confidently trust WinTek USA for the job. As one of the most trusted home improvement contractors serving the Dallas, Texas, area, we offer state-of-the-art products and professional installation services.
Energy-Efficient Replacement Windows That Offer Timeless Beauty
At WinTek USA, we know our customers have high expectations for their new windows. That's why we offer three proprietary lines of replacement windows that are manufactured by ProVia, a name that is virtually synonymous with quality. Our window series options include:
EcoTek by ProVia 1200 Series – beautiful, energy efficient, and affordable to boot
EcoTek by ProVia 2200 Series – with double panes of low-E glass for the next level of energy efficiency
EcoTek by ProVia 3200 Series – premium windows that deliver superior performance
While each series offers a different level of performance, they all feature ENERGY STAR®-rated glass to improve home energy efficiency. They also boast slim vinyl frames that are gorgeous, easy to clean, and customizable with your choice of color.
Gorgeous Front Doors and Patio Doors
You'll be pleasantly surprised how much of an impact a new exterior door can make on your home's exterior design. For your project, we'll help design an extra-strong fiberglass or steel door that will add beauty to your home and make it more secure. If you have an outdoor space where you like to relax, we can create an elegant entryway to your deck or patio with stylish and energy-efficient patio doors.
Let's Get Started
If you're looking to make energy-efficient home improvements or just want to add beauty and functionality to your home, WinTek USA can help. Our products are American-made, and we offer exclusive warranty protection for homeowners in Dallas, TX. Contact us today to learn more about why we're the right home improvement contractor for your home.